DTC Solutions -Repair Solutions for Codes!
0017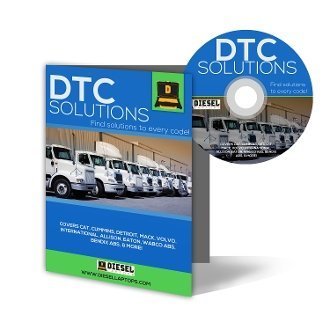 Call 800-399-9495 for quick answers and help!
Let me introduce you to DTC Solutions. This is the industries most concise, easiest to use software when you are trying to repair an engine code. This program is very simple:
Step 1) Pick your ECM (Engine, transmission, or ABS)
Step 2) Pick your code
Step 3) Read the solution
... and that is it! This program currently covers the following:
Allison 1000, 2000, 3000, & 4000 Series
Bendix ABS (EC-30, EC-60, & Trailer TABS-6 -- the most common ones)
CAT On-highway engines (All including: 3100 HEUI, 3126B, 3126E, 3406E, C-10, C-12, C-15, C-16, C11, C13, C15, C7, & C9)
Cummins On-highway engines (All engine from 1990 to 2015: N14, M11, ISX, ISB, ISM, ISC, ISL, & Signature)
Detroit On-highway engines (All engines including: Series 60 DDEC II to DDEC VI, EPA07, EPA10, DD series, GHG14, DDEC VI, DDEC10, DDEC13)
Eaton Transmissions
Ford (E&F 450/550 with 6.7L and F650/F750 6.0L)
Freightliner SAM Modules (Cab, Chassis, Central Gateway, & MSF)
HINO JO8E (2011 & Newer)
International Engines (DT466 2004-current, MaxxForce 5, MaxxForce 7, MaxxForce 9, MaxxForce DT, MaxxForce 11, MaxxForce 13, VT365)
International Body Controller
Isuzu (4HK1 & 6HK1)
Mack Engines (From 2004-Current)
MBE900 & MBE4000 (All Years)
PACCAR MX & PX Engines (2007 to Current)
PACCAR Body Controller
UD Nissan (2005-2007)
Volvo Engines (From 2004-Current)
Wabco ABS (C, D, & E Versions)
Mack mDrive Transmissions
Volvo iShift Transmissions
All Mack & Volvo ECUs including Instrument Panel, Satellite, Vehicle, Climate Control, Seat Belt, Radio, Lighting Controller, and Cab Shifter
Your purchase entitles you to install the software on 1 computer. If you would like more than 1 license, contact us for additional discounts. Upon purchase you will be provided a download link, and we will also ship you a copy of the program. Once installed, we will need the serial # the program generates to provide an unlock code to you.
Your purchase also entitles you to 12 months of free updates! We are constantly adding additional ECMs to this program, along with new features! After 12 months we do charge $50 per year to continue to receive updates.
Program requirements:
Windows 7 or Windows 8
200 MB hard drive space
Internet connection
1 GB RAM