Ford IDS Package Includes VCM II, CFR Pendant And Dell Latitude E5480 164-R9819
164-R9819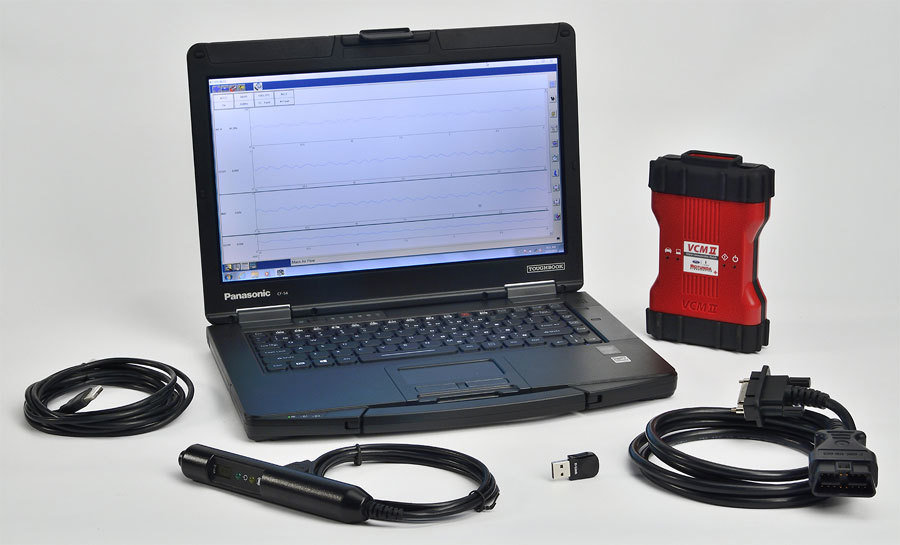 ord Integrated Diagnostic System (IDS)
The Ford IDS is the only equipment that provides complete diagnostic coverage, including module programming and key programming of 1996 to current and future Ford and Lincoln vehicles. The IDS will operate on multiple PC platforms meeting the minimum specifications and having a valid IDS software license subscription. IDS software license subscriptions are available online at the PTS, Ford Fleet, or Motorcraft service website.
Vehicle Communication Module II (VCM II)
The VCM II communicates with Ford and Lincoln vehicles via the 16-pin diagnostic link. This device is the core of vehicle diagnostics. An IDS software license subscription (sold separately) provides access to the software which uses the VCM II hardware to perform vehicle diagnostics.
FEATURES
The VCM II is designed to have comparable with Ford/Lincoln/mercury vehicles from 1996 to present.
All VCM II's will operate as a Customer Flight Recorder (CFR) with an optional pendant cable 164-R9806 to replace the functionality of the Vehicle Data Recorder (VDR)
Industry standardized J1962 Data Link Connector (DLC) and USB cables allow the user to realize a lower cost of ownership compared to the VCM
Includes enhanced 802.11n wireless that minimizes dependencies on service department wireless infrastructure
New wireless software integrated with IDS installation package
Wireless functionality preferred for all IDS functions including module reprogramming. USB wired connections are only required to update the VCM II loaded code firmware and to set up the VCM II to function as a Customer Flight Recorder (CFR)
Improved durability
Smart Power Management system to protect the VCM II in extreme environments
*Software license sold separately.
Dell Latitude E5480
The Dell Latitude E5480 from Rotunda is configured with Windows 10 Pro 64-Bit for complete compatibility with IDS. The Dell latitude is a business series laptop that provides the highest level of security with minimal platform changes through the life of the product to make the unit ideal for business setting. The latitude series also incorporates higher durability and quality standards to help stand up to a business daily usage. The Dell E5480 comes with business level support to minimize loss of productivity with onsite support after remote diagnosis. See item 164-R9818 for current specifications.
Customer Flight Recorder (CFR)

You must have a CFR pendant to enable the CFR functionality. The CFR pendant is a new accessory exclusively for the VCM II that allows technicians to capture and record specific vehicle data without requiring the presence of a laptop computer in the vehicle. The CFR pendant can be used for long test drives for hard-to-diagnose concerns, running on vehicle power there are no batteries to charge! Recording can be activated by the red button on the pendant or automatically based on specific vehicle data values.