International ServiceMaxx Fleet Pro Diagnostic Truck Software
DS00104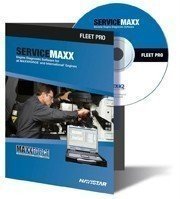 All Software Codes Ship within 24 Hours.
SERVICEMAXX Fleet Pro P/N – 828009 is used to diagnose all electronically controlled International engines. The appropriate interface cable must be used to communicate with the vehicle.
Engine Compatability: MAXXFORCE and International Engines 1995 - Current
The Navistar SERVICEMAXX Fleet Pro application is a fully-featured PC application designed to meet the wide range of diagnostic challenges you face when servicing a mixed truck fleet. Coverage includes all International electronic engine systems, allowing you to run special tests, change parameters, and view and graph engine data. This is the top-of-the-line tool for fleets. The application updates periodically, enabling you to have the most up-to-date coverage throughout your annual subscription.
Basic Functions
* Read Fault and clear diagnostic fault codes
* View, graph and save engine data
DIAGNOSTIC TESTS
* KOEO – Key On Engine Off
* KOER – Key On Engine Running
* KOEO – Injector Buzz Test
* KOER – Injector Contribution Test
* Cylinder Cutout Test (EPA 04' and newer)
* Injector Disable Tests (EPA 04' and newer)
DISPLAY AND CHANGE CONFIGURABLE PARAMETERS
* Crank Inhibit
* Fan Control
* Idle Shutdown Timer
* Warm-up Device
* Warning and Protection System
* Hydraulic Pressure Governor
* PTO Control
* Radiator Shutter
* Vehicle Speed Limit
* Vehicle Retarder
* Two Speed Axle
* Traction Control