Universal Diesel Truck Diagnostic Laptop with Scanner
0058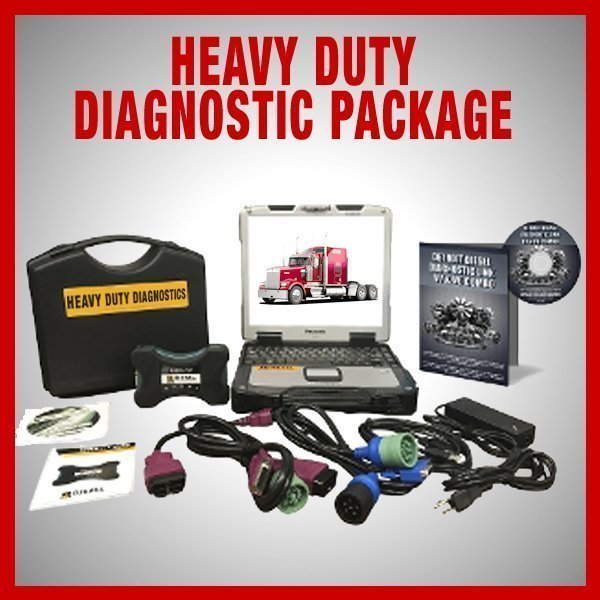 Call 800-399-9495 for quick answers and help!
Universal Heavy Duty Diagnostic Package
Our Flagship Universal Heavy Truck Package
Drewlinq Heavy Truck Hardware (Brand NEW w/ BONUS OBD II Connector) - We've partnered up with DG Technologies to provide our own private label datalink communicator! This item is brand new and has a 24-month warranty.
Heavy Duty carrying case
6-pin, 9-pin, & OBDII cables (All the cable ends you will need)
USB Cord
Instruction Manual
2-year warranty through DG Technologies (We are the worlds largest DG Technologies distributor)
The Drewlinq is compatible with all of the same software that other adapters such as the Nexiq USB Link is, including Cummins Insite, CAT ET, International ServiceMaxx, Detroit Diesel Diagnostic Link, Eaton, Wabco, Bendix, Mack, Volvo, and all the rest.
OEM Software -The following software is compatible, licensed, and configured to use out of the box for additional costs. These are all legal, licensed, latest versions of their software.
Eaton Service Ranger - Used for Eaton Transmissions
Meritor Transoft - Used for Meritor Transmissions
DDEC Reports - Detroit Diesel trip & lifetime reports
ACom Diagnostics - Used for Bendix ABS systems
Wabash ABS - Used for all Wabash Trailer ABS systems
Haldex ABS - Used for Haldex Trailer ABS systems
Included Software in this Kit is the PocketFleet Diagnostics Full Heavy Duty Edition with OBDII - This is an UNIVERSAL software program that reads both truck & auto data. Over 2,000 customers are using this program, and it is truly the best "all market" program available. It not only reads commercial truck engine data, but it reads everything else, including:
Gas & Diesel
Transmission
ABS
Cab Body Controllers
..and more!
Here is just a partial list of all the things you can do with this program:
View both active & inactive codes for engines, transmissions, DPF systems, and more.
Clear inactive codes
View the "live" data including all sensor and electronic data (Such as oil pressure, coolant temperature, status of on/off switch, etc...)
Force live regen's (On models that use OBD-II such as Ford & Isuzu)
View engine data such as VIN #'s, engine hours, fuel used, miles driven, and much more.
Converts MID/PID/FMI codes to OEM codes up to 2016 models (More codes are constantly being converted)
Print DTC (Diagnostic Trouble Codes), current parameters, engine data, and more.
For International Engines - Perform Key On Engine Off Standard & Injector tests. Change parameters such as cruise speed, idle shut off and more (New feature in v2.2!)
Monitor live data coming across the various computers.
The version installed on this laptop does both Heavy Duty & Auto. Here is a short list of coverages:
Transmissions
Allison - Generation 3 (Introduced in 2000) and newer. Includes 1000, 2000, 3000, & 4000 Series
Eaton - All Models (Including Hybrid)
Engines/Trucks
Cummins - All Engines
Detroit Diesel - All Engines
CAT Engines - On highway Only
MBE900 & MBE4000 - All Engines
PACCAR - All Engines
International - Both MaxxForce & pre-MaxxForce
Volvo - All Engines
Mack - All Engines
Isuzu - N-Series Trucks (Will also do forced regen)
Hino - 2012 & Newer (Will also do forced regen)
Mitsubishi Fuso - 2012 & Newer (Will also do forced regen)
Ford F-Series Diesel (Will also do forced regen)
Dodge Trucks with Cummins Engines - All Years
Construction/Agriculture
John Deere - Construction & Agriculture
CASE
Trackless
JCB
Carleston
Volvo - Construction Equipment
CAT - Construction Equipment using J1708/J1939 protocols
... plus many more!
Other
Bendix ABS
Wabco ABS
Haldex ABS
Wabash ABS
EATON - All Systems (Except Hybrid)
Freightliner - Cab Controller
International - Cab Controllers
PACCAR - Peterbilt & Kenworth Cab Controllers
Auto - All Domestics with OBDII (1996 to present)
Auto - All Imports with OBDII (1996 to present)
Generators
Industrial Use Engines
Marine Engines